iPad owners are interested in the question of whether this popular program is compatible with their gadgets and whether they can download it.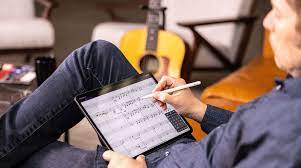 The developer of this program has released a version for owners of technology from Apple. With this mobile application, available on the AppStore, users can purchase, learn and perform musical scores in the famous Sibelius score editor. In this program for owners of «apple» gadgets, the following benefits are available:
• access to the Internet library of sheet music, which contains over 150,000 titles;
• notes can be transposed, the recording can be adapted to different instruments, including converting guitar tablatures to notes and vice versa, notes to tablatures;
• the display of notes can be sequential, or, like on a music stand, the entire piece can be displayed at once;
• the piece can be listened to at different speeds, while the piano keyboard on which the notes are played can be displayed;
• in addition to purchasing works from the online library, you can download sheet music to iPad in Sibelius and Sibelius First formats;
• variable appearance of the music sheet: you can select the font and texture of the virtual paper.
With support for up to 16 instrument parts, you can create rich, layered compositions. But it's not just about notes. Add chord symbols and guitar chord diagrams by simply playing a chord on your MIDI device.
The versatility of the application has made it popular and widespread. In fact, Sibelius is available on all types of gadgets that can be classified as modern. It works on all operating systems. It is difficult to find negative reviews on the Internet regarding this music editor. As a rule, users are quite satisfied with this program. If the free functionality is not enough, then you will have to issue a paid subscription option for this application, which will provide the user with a full extended set of functions. Despite the rather high price, the premium subscription will become a faithful assistant for both beginners and already experienced musicians and composers.
So, the program works great not only on the iPad, but also on other «apple» gadgets. This not only makes it more popular, but also creates a field for those music lovers who use Apple. In this case, both novice composers and professionals in music writing will find a rational and effective solution in writing music.