Deezer is a popular streaming music service that was created in 2007 in the capital of France. During his work, he won the hearts of many music lovers around the world.
The French streaming music service has several unique advantages, among which the main can be considered high sound quality with a paid subscription. But on this, its advantages, one might say, end. Some music lovers ask a logical question about what alternatives to this platform can be. To do this, you should first make a small overview of the modern music streaming market.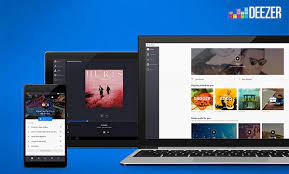 In recent years, the music streaming market has been developing at an incredibly high rate. In 2020, when it seemed that the whole world went online, the number of paid subscribers to streaming music services only grew by a third. With the help of streaming music services, an incredible opportunity has appeared for easy, fast, convenient and relatively inexpensive access to legal music content. Streaming music has almost supplanted the usual ways to listen to your favorite music.
For several years in a row, Spotify has been called the undisputed leader among streaming music services, announcing 150 million paid subscribers around the world in early 2021. At the end of 2022, Spotify held more than 30% of the global streaming music market. This service will be a worthy alternative for Deezer, although it will not be able to provide high quality music sound even for its paid subscribers.
Apple Music is in second place in the world, it boasts 70 million subscribers and 19% of the global market. It will also be able to become a reasonable alternative to Deezer, but at the same time a priori does not have a free version.
In third place is Amazon Music, which today has 42 million subscribers and almost 12%. This service is gaining popularity every day. It can also be seen as an alternative to Deezer.
Next in the top five are: Tencent Music with 11% of the streaming market and You Tube Music, whose share is 6%.
The remaining streaming services occupy only 13% of the global market. Experts are confident that in the foreseeable future the annual increase in paid subscribers of streaming music services will be at least 25%, the struggle for them will be increasingly fierce, as well as competition in the market itself.
The closest in quality of the sound of the music played to Deezer will be Tidal. He will vpoєne be able to replace the French platform, but at the same time his paid subscription will cost much more. If you use a good bundle of «headphones player» or «DAC acoustics», while you do not like to wait until the heavy FLAC downloads from pirated torrent, then you can quite use this service instead of Deezer and, preferably, with HiFi subscription. The FLAC 1411 kBit is available in Tidal, which fully meets the quality of CD-Audio and the minimum requirements of HiFi. Now the service is available in 54 countries.
Tidal is the first streaming service owned by performers. Its co-founders are Jay-Z, Rihanna, Beyoncé, Chris Martin, Kanye West, Daft Punk and other popular artists. Thanks to this, it is easier for him to get exclusives, at least temporary. For example, Rihanna's song «Bitch Better Have My Money» was only available on Tidal for some time.