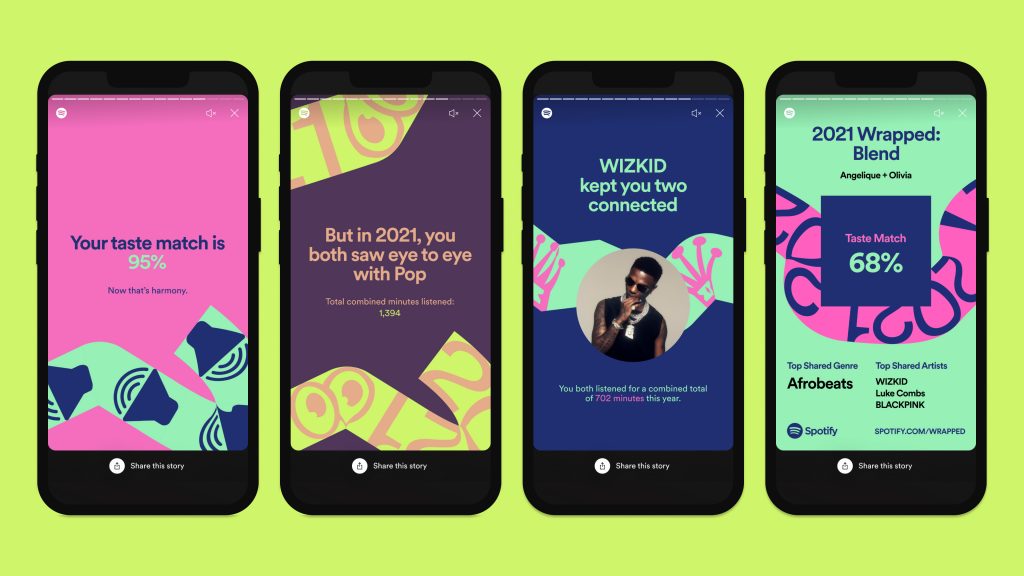 Spotify Wrapped is a fantastic feature that came back in 2021 with more perks and goodies for the clients who have a Spotify account. They say this makes Spotify a great choice as a prominent streaming service for many music lovers.
You can see your favorite songs, artists, and genres for about 12 months of 2021. The update is in early December and your story is usually available till early January.
Of course, you need an account to view and share your music preferences during the year. It looks like an Instagram Story consisting of 13 different cards.
You may have got the notification about it on your Spotify mobile app. Tap 'Your Wrapped is here' and enjoy. You will get the list of your top songs, top artists, and how much time you have spent listening to them. If you tap 'Share This Story' that is under every card, you can send this slide to your friends via social media.
To get the list of your 100 top songs, you need to tap 'Add to Your Library'. Remember that it is very important to do that, and we are going to explain why.
You can open this playlist any time, listen to it, or convert it to any other music service and then download it to your device and listen offline.
You can also get a card from Spotify at the end of your Wrapped Story with the most important features of your musical preferences. You can tap 'Share' to save it or post it on social media too.
If you haven't got your Spotify Wrapped in 2021, it can mean the following:
you didn't have a Spotify account;
you opened the account but too late, say, in November 2021;
you didn't complete all the operations to get it;
it's 2022 already.
Let's consider the last point because it is a straightforward answer to your question. If you ask 'How do I see my 2021 Spotify Wrapped in 2022', unfortunately, you cannot see the Story 2021 in 2022. It has not been available since January 2022. However, you can still get your 100-song playlist from 2021 if you completed all the necessary preparations in December 2021 and sent your playlist to the Library.
Every Wrapped Top 100 playlist has a specific URL. When you log in to your Spotify account, you can open that URL, and your playlist becomes available either on the website or via the mobile app.
It is important to remember that Spotify did not place your playlist 2021 to its Library automatically. If you haven't done anything to store it at the end of 2021, you will not be able to see it now.
So, the first thing to get your Spotify Wrapped Story of 2022 is to open your account. To have access to your 2022 library in 2023, you need to complete the storing process at the end of 2022.