Hello, I want to start by saying that we live in the golden age for music lovers and we have unlimited access to music through internet and various applications that allow us to do whatever we want.
We all want our best and favorite music to be in our device on demand to play when we want it, well the best solution for us is Google Play Music application.
Google Play Music is a music and podcast streaming service operated by Google. The service give some options about choosing your way to use it, we have Standard, and Premium accounts.
Users with standard accounts will get the storage of up to 45,000 files for free. Also it supports all formats, and offers you the option to convert your files and download them in to your device for offline use.
Paid subscription of Google Play Music gives access to on-demand streaming of millions songs, also we can get one month trial period and after that it cost 6.99$ a month.
We can choose what to use, for some the Standard account is enough, but for those real music lovers Premium account is very good, the cost is not high and we also get one month free to see is it for us or not.
There are a lot of other sites and apps that work nice with Google Play Music but the best and most interesting right now is MusConv application.
MusConv allows us to transfer various songs and also playlists in to various music services like Apple Music, Google Play Music, ITunes and a lot other.
This application is very useful, and gives us easy way to transfer and convert our whole playlist instead of going for one or two songs at the time. The app works easy.
First step is to select the source from where u want to take your music, as an example if we want to get our whole playlist from Google Play Music to Spotify we select Google Play as our source from where we take our playlist.
The second step is to select the playlist that we want to transfer.
The third step is to select where we want to transfer our playlist, like in our example we want that to be Spotify so we select Spotify as the destination, also the application works other way around, you can transfer from Spotify to Google Play as well.
The last step is just simply click Transfer button, and voila, our playlist is transferred from Google Play to Spotify and we can enjoy our favorite music.
The MusConv basically allows us to transfer every playlist from one destination to the other on demand. It is that easy.
If you decide to migrate from/to Google Play Music, MusConv will help you!
So how much is Google Play Music?
Google play music is a popular music streaming portal launched in 2011. Since then it has come a long way and is in competition with the international market.
Google Play music has tons of features that make it worthwhile. In this article a comprehensive overview would be provided about Google Play Music.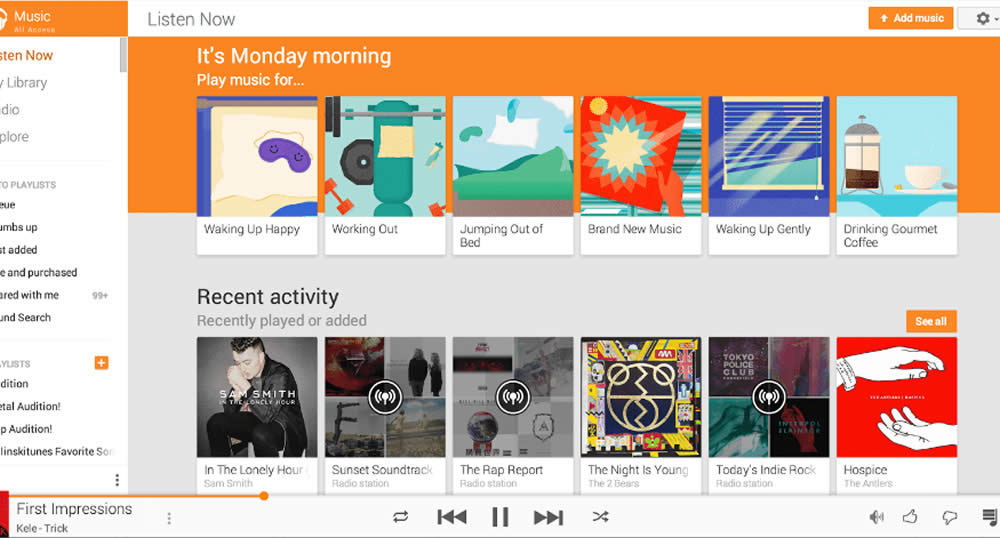 So, how much is Google Play Music again?
First and foremost let's consider the payment and cost aspect of Google Play Music. Google Play Music offers a 30 day free trial before you begin using it. It has two plans, the standard plan and the official Google Play Music premium plan.
The standard plan provides access to listening music, storing it, buying new music and no ads facility. Though the premium plan has all the goodies and allows unlimited streaming, downloading, creating personalized playlist(s), offline play, listening to radio and much more.
The standard package is free and the premium plan can be enjoyed at a negligible cost of $9.99 per month. Keep in mind that this is a pretty fair amount for what they have to offer.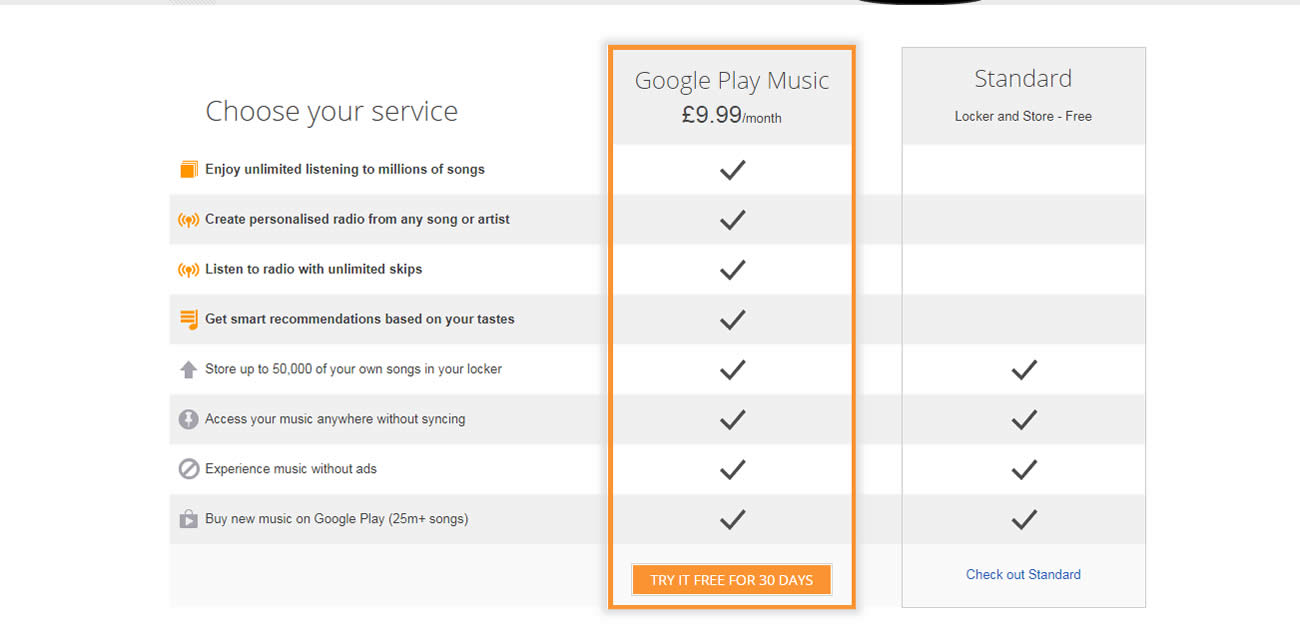 Synchronization
Another positive feature of Google Play Music is that your music playlist(s) remain synchronized on all of your devices, hence, you don't need to add or remove music every time from any device. You can just login and enjoy your music.
Offline play
Google Play Music allows you to store you music in your device so that you can listen to it offline. Simply download it in your mobile via the download option and you are good to go.
Purchase music or upload your own
Google Play music also allows you to purchase music that you like. And if you wish to put your own music and add it to Google Play Music's library, you may feel free to do so. As Google Play permits you and it is one heck of a feature.
High Quality Music
Google Play Music offers 320 Kbps music rate which is apt and proficient enough for the listeners. You won't have complains about the audio being interrupted or with the music effects quality as it is good enough for anyone.
Music discovery and podcasts
Google Play music allows instant search of music and artists that makes its search facility capable. You can search for new albums, releases, songs, musicians, artists and more. Also Google Play Music supports Podcasts which is a plus for everyone.
The answer to the question how much is Google Play Music, concludes with the answer that Google Play music has so much to offer and you can discover more about Google Play Music role in MusConv application here.
Get more information about Google Play Music on Wikipedia.
As Johnny Depp says,
"Music touches us emotionally, where words can't"
So enjoy unlimited music with MusConv!
If the question is "how much is Google play music", then we must have to admit it holds a substantial portion of music industry. However, there are a lot of facts one should consider while discussing about the facts and figures of Google Play Music. Let us take you straight on to it.
Market share
In terms of market share, we do not think Google play music holds a lot. Yet, in terms of free users it should be in the second position, as according to a press release, it has the second largest number of free users. In terms of numbers, it is half of Spotify's free users.
Spotify has 160 million free users in total. On the other hand, Google and YouTube has 80 millions of free subscribers. In terms of paid subscribers, Google Play Music is not performing well at all. As it has been launched for three years only, there should be significant amount of growth lying ahead of it. Though, if we compare the growth of Google Play Music with Spotify, you would be astonished.
As 3 years ago, Google Play Music, YouTube and Spotify were almost at the same track. At the end of 2016, Spotify obtained 50% growth and in 2017, it had 30% growth.
On the other hand, the total number of paid subscribers of Google lies in the range of 1 to 2 million and it is in truth less than Tidal, Deezer and Sound Cloud.
More info about Google Play Music on wikipedia.
Music quality
In terms of music quality, we cannot actually put Google play music at a higher position. It may match the music quality of Amazon, as it is providing 256 kbps MP3 music. However, YouTube's music quality is a matter of concern for lots of YouTubers.
This problem is going to be solved pretty soon as YouTube 2.21 is gaining the quality control feature of Google Play Music. In this way, users will be able to listen to high quality music while enjoying 1080p HD videos as well.
If this particular feature can be added pretty soon to YouTube Red, we believe, at the end of the year, Google Play Music and YouTube Red will have paid subscribers numbered around 10 million.
Conversion of music playlist
If you are a music streaming enthusiast and willing to transfer music and playlist from one music streaming provider to another, MusConv can help in this regard. Furthermore, to manage the playlist more properly, MusConv can help by allowing the access of users into the CSV files of their playlists.