Satellite radio SiriusXM formed by the merger of two companies Sirius and XMRadio in 2008. Broadcasts from satellites to the United States and to the 200-mile maritime zone along the US coast.
Satellite radio provides a wide range of possibilities for the user. This is the highest quality of sound of music tracks, and a much larger territory of accessibility. SiriusXM, a popular satellite radio service, also offers a full line of streaming on the Internet. If you are already a Sirius subscriber, have radio or built-in features in your car, or want to subscribe to their line of streaming channels, you can quickly start listening on your computer and mobile devices.
The average subscription contains a subscription containing 155 channels. This is an exhaustive choice. You can describe channels indefinitely. Let's just say that with their help you can listen to music in excellent quality almost wherever there is a coverage area with a network of SiriusXM stations.
Today, users can subscribe to satellite radio, having received a three-month free trial period. Also, this radio can be prepaid for six months or a year when buying a new or even used car, if such an action is held by the car dealership in which this car was sold.
So, we will list all relevant offers on SiriusXM subscription.
The PREMIER package will cost $1 from the moment of subscription and for three months. Further, the subscription fee will be $13 per month. The premium streaming package includes more than 350 channels for listening on mobile or fixed devices. To the service of subscribers also – Music without advertising for all genres and decades, as well as streaming channels for parties, workouts and much more.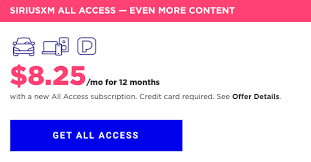 The AUTO + STREAM package will cost the subscriber $5 per month after a three-month free trial period. This amount can be paid throughout the year, and then the cost will be already $16.99 per month. This package is ideal for motorists.
The FULL ACCES package costs $8.25 a month. The first three months you can use it for free, this is a trial version. But such an amount can be paid only for 12 months. Further, the cost will be already 21.99 dollars per month. There are no restrictions in this package, the user will be able to find all the channels and programs that are on the SiriusXM.
The Student package involves a subscription fee for the first three months of use of only one dollar, and then the student will pay only $4 per month. But to sign up, you'll need to confirm your student status. Just send a student ticket scan.
Package Family will cost $15.99 per month. Within it, you can create up to six user accounts, each of which will be autonomous.
There are several more less common tariff plans: for fishermen, for businessmen and even for pilots, but they are less in demand.
The selected subscription plan will be automatically renewed and the subscriber will be regularly charged according to the payment method of the current rates. Therefore, you need to monitor the state of the subscriber account or set up regular payments in electronic banking.