MusConv has designed and developed an application that is dedicated to provide its service by helping you manage and synchronize your music album(s).
With our application you are able to harmonize your music across multiple platforms including Spotify, Amazon Music, Deezer, Soundcloud and more. You can enjoy music anywhere and at any time.
All it takes are four simple steps and you are able to pull together your playlist(s) with ease. These steps are:
Selecting your source musical media platform
Choosing your playlist
Selecting the destination platform
And transfer
This allows your music item(s) to shift from any platform to any platform – all at one place!
If you have been struggling to add multiple songs to your playlist then don't worry. It is pretty simple if you are using MusConv. Here in this article, we explain the two methods by which you can increase your music collection easily and within a couple of minutes.
So how do I add multiple songs to a playlist on Spotify?
In order to add multiple songs to your Spotify playlist there are two methods, one is through Spotify and one is through MusConv. We have mentioned both of them here for you.
Method 1: Through MusConv
To add more music items in your Spotify playlist perform the following steps:
First and foremost, download our application and install it in your computer
Launch the application and click on Spotify
Login to your Spotify account with the authentic credentials
Once you have logged in, your playlist would load automatically. For this method, you should have a CSV file on your PC that contains your music playlist(s)
You can upload the CSV file by clicking on CSV and then choose the file from your PC. Click on the ADD button and the playlist would appear on your interface
Afterwards, select that playlist and click on the transfer button on the right of the respective row.
Choose your destination platform which in this case is Spotify. Don't forget to select normal transfer to complete the process.
And that's a wrap! Everything you needed to add an entire playlist to your Spotify account has been revealed.
Method 2: Through Spotify
For this method, you would have to login to your Spotify account and add songs to your selected playlist. Once you have done that, you can open our MusConv application, and you will see that the playlist has been automatically updated.
Now you know how to add multiple songs to a playlist on Spotify; you can learn more about our app here. More info about adding multiple songs to a playlist on Spotify is accessible on Wikipedia.
As Michael Jackson said, "To live is to be musical, starting with the blood dancing in your veins. Everything living has a rhythm. Do you feel your music?"
So feel and enjoy every rhythm with MusConv!
So how to add multiple songs to a playlist on Spotify?
For all music lover everywhere listening to one song and chasing for the other is really exhausting and it can kill the moment for us, so the best solution is to take all of our favorite songs and put them in one place, our playlist.
For users of Spotify, one of the best platforms for listening to various types of music on a lot of different ways there is a question of how to add all of our favorite songs to one playlist?
Well let's start with a most simple explanation there is, if you are using your Spotify app on your PC the process of adding multiple songs to a playlist is very simple.
You just need to press and hold your CTRL key on your PC keyboard while selecting all of the tracks and when you select them all you just drag them with your mouse pointer to where ever you want.
If you are selecting really big number of tracks I suggest that you select the first song and hold the SHIFT key on your keyboard and then click on your last track and that will highlight all the files and songs between the first and the last, than you just repeat dragging them to your playlist.
If you are not the fan of clicking and dragging your songs from one place to another Spotify also offers you that when you select all the songs you want to add, you just find the three dots option and then from that option select Add To Playlist and then select your playlist and the tracks will be added to it.
The other option also very easy and it works perfectly is that you start by creating a temporary "Working Playlist" and you drag all the albums and tracks that you want in there, when you are done with that you just open this temporary playlist and you will get the option to select all of the songs you want to add to your other playlist and you can just drag it there.
While we are talking about playlists for all of you music lovers who like to have their favorite songs in every platform you can simply create your playlist on one platform and with the help of MusConv application just transfer your whole playlist from one place to another and it is very simple and helpful. You can transfer your playlist from other platforms in your Spotify app and also transfer it from Spotify to any other platform.
With MusConv you can easily migrate from Spotify to Amazon, Apple Music, Google Music and other popular music streaming services!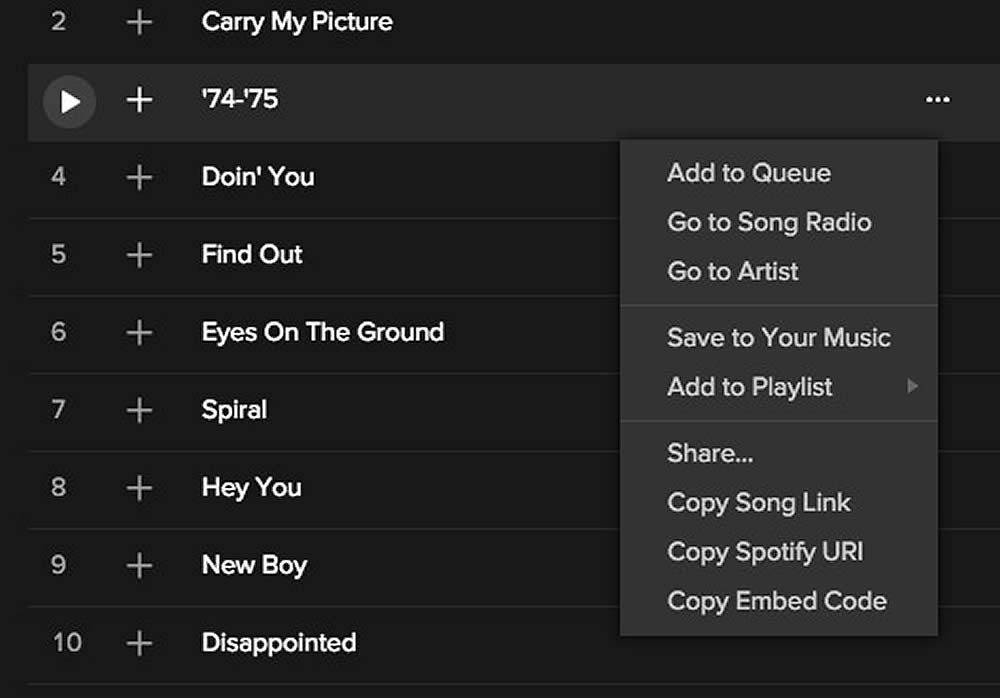 Adding multiple songs to a playlist in Spotify is not easy. Even it may seem to be a puzzle to a lot of people at the very first look. You will really be amazed by watching how simple the whole process can be. Here, in this particular article, we are going to show how to add multiple songs to a playlist in Spotify.
A brief about the Spotify market stature
Spotify being the giant gator in the music streaming industry went through significant amount of growth in the past few years. If we analyze the growth curve, it would really be impressive.
In the last quarter of 2016, Spotify had a 50% growth. In 2017, it had a 30% growth and in 2018, it is expected to gain a growth of 10%. With time, it engulfs the music streaming industry completely. At the very beginning, it was at the same standing with mediocre streaming services like Pandora.
Though, right now what we have seen it emerges from that position outstandingly. Back then, Spotify and Pandora both had around 3 million of paid subscribers. Right now, Spotify has 78 million of paid subscribers and around 80 million of free subscribers. On the other hand, the Pandora subscriptions remained the same.
It is currently dominating over two thirds of the total music streaming industry. It has lost its dominance in the US market recently. Otherwise, the performance of Spotify in Global Music Streaming industry is impressive. Needless to mention that the Spotify is the only dominant music streaming provider in Australia.
However, the only drawback it has that it has support for 61 countries only. It should enhance its support and that might replicate the revenue greatly.
How to add multiple songs to a playlist in Spotify
To add multiple songs to a playlist in Spotify, you need to hold ctrl and a at the same time. Now click a song and press the "add to playlist". In this stage, you must not choose the playlist to add.
Then, follow this act again for another song to add it into a particular playlist. After selecting all of the songs, now click the "add to playlist".
What should you do if you need to transfer your playlist
If in any instance, you need to transfer your playlist, all you need to do is to use a particular tool named MusConv. To perform this job, there is no better alternative available in the market right now. It can deliver seamless transferring of music and playlist at the quickest time possible.
MusConv is a great playlist transfer app.
MusConv is a great playlist converter, just try it.
Read also: Can I see how many times I've played a song on Spotify?