SoundCloud is used as a music streaming service, but it is also a place where many musicians publish their own songs. At the same time, the uniqueness of this service lies in the fact that it has the functions characteristic of a social network. Initially, developers from Stockholm planned to create a site that would allow musicians to exchange tracks among themselves, but subsequently the project was transformed into a full-fledged musical distribution channel. A key feature of SoundCloud is the ability to distribute each entry individually using a unique URL, which allows them to be embedded in popular social networks.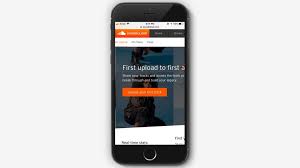 SoundCloud offers two tariff plans for paid subscribers – PRO and PRO Unlimited. So far, the functionality of the streaming music service has not yet been fully improved, so not all even paid users will be able, for example, to download their music into the application from a mobile phone, taking full advantage of its features.
The voice exchange service SoundCloud will be able to directly download music to the mobile music application. So far, this feature is only supported by iOS.
Previously, you had to use a computer to download songs to the SoundCloud, but now users can iOS download them from the SoundCloud application.
Since most Internet users in the world use their smartphones, SoundCloud makes sense to increase their mobile presence. With the app, you can now edit tracks, profiles and even Spotlight features that are only available for paid services.
The method of downloading from a smartphone is as follows. First, go to the Home screen, tap the up arrow in the upper right corner, and select a compatible audio file on your smartphone. Best supported are FLAC, WAV, ALAC, and AIFF.
When the track is loaded, a screen is displayed to edit data such as title, genre, description, and cover. You can also leave the track private or public.
You can upload files to SoundCloud from anywhere if you move files to your smartphone, even when you're on the go, so upload your own mixes and so on.