With MusConv you can easily put music on Spotify!
So how to put music on Spotify in 2023?
MusConv is a platform where you can enjoy a wide range of music from any platform. Our application allows you to harmonize your music across various platforms such as from Spotify to Deezer or from Google Play Music to Spotify and many more.
We support almost all of the trending musical media platforms and make your life convenient through our transfer feature.
With MusConv you can download or upload your music items as and when you please. There are no restrictions or drawbacks.
So how can I put music on Spotify?
To upload your music on Spotify what you have to do is downloading and installing our application. This is a mandatory step because without it you won't be able to do anything.
Download the application by visiting our website and clicking on the "Download" button. Once done, run the file on your PC and follow steps of the wizard to successfully install the application.
Once the app has been installed you have to:
Launch the application and click on Spotify
Login to your Spotify account with the correct username and password
After logging in, there are two ways by which you can put music on Spotify and they are:
Method 1: Through MusConv
For this method, you should have a CSV file on your PC that contains your music playlist(s).
You can upload the CSV file by clicking on CSV and then choose the file from your PC
Click on the ADD button and the playlist would appear on your interface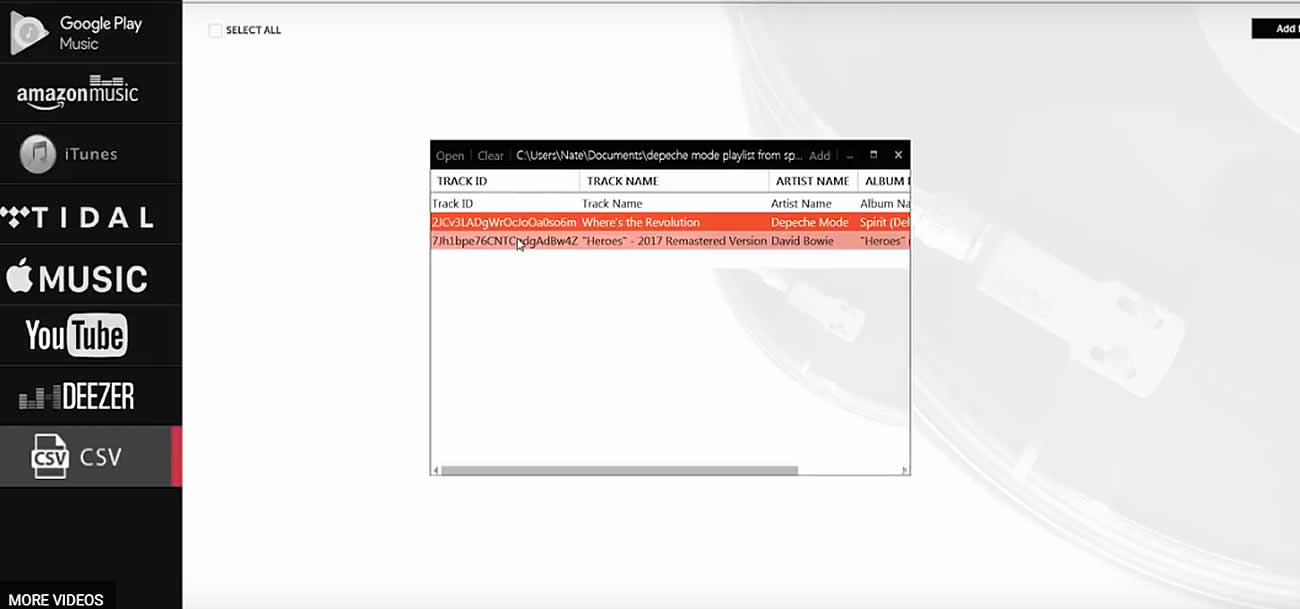 Afterwards, select that playlist and click on the transfer button on the right of the respective row. Choose your destination platform which in this case is Spotify. Don't forget to select normal transfer to complete the process.

And this is how you can put music on Spotify through MusConv.
Method 2: Through Spotify
For this method, you would have to login to your Spotify account from the browser and add songs from there. Afterwards, open MusConv app where you would see that the playlist has been automatically updated.
Read more about Spotify conversion here.
You can learn more about Spotify on the Wikipedia.
And as John Green says,
"Some people have lives; some people have music"
So enjoy unlimited music and feel the true rhythm of life with MusConv.
Putting music on Spotify is as smooth as walking over the grasses bare footed. All you need to do is to create a playlist in the desktop app. After that, drag and drop your desired music into it.
After that, log in to your mobile app using your id and password and you will find that playlist out there. It is that much simple. However, here, we have just described all of the steps at once. Later, we will describe each segment and clarify in such manner that even a child could put music on Spotify.
Step One: starting with the download
At first, we need to download the Spotify Desktop, if you have not already. You will be able to download it from the official website of Spotify. After downloading it, you need to install the software and the installation procedure is pretty simple.
You need not to go through any hazard while performing the installation. However, after performing the installation, you are ready to go with the desktop app. We are expecting that you have got a mobile app installed already. If you have not done that yet, perform it. It will allows you to check whether the playlist is actually there or not.
Step two: Creating a playlist
The next stage is to create a playlist. Creating a playlist is very easy in Spotify and you just need to click the "create a playlist" button for creating the playlist. It is that much simple. After creating the playlist, give a name to it so that you could find it easily later.
Step three: how to put music on Spotify
Here, we will let you know how you can put the music into the playlist. To put the music into the playlist, you just need to use the drag and drop method. We are expecting that even a child understands what is a drag and drop method.
You just need to choose the song and drop it into your playlist. You may drag and drop a decent amount of songs into a playlist. After that, you have to log in to your account using the id and password in the mobile device just to check whether the playlist is there.
After logging into your account, you will find out that, the playlists and songs are in there. The whole process is very easy. Although, Spotify has over 30 million of songs in its library, you may follow this above mentioned method to add more songs into your personal collection.
MusConv is a great playlist converter, just try it.