Selecting
You can select tracks, albums, and lots of other things from almost any screen in Roon. To select something, right-click when using a mouse, or press and hold when using a touch interface. Once you've selected something, a selection bar will appear at the top of Roon:

Using Selection
Click Play Now to listen to the selected content. Click the 3 dots button to:
Add or remove Tags
Add tracks or albums to a playlist
To favorite the selected tracks or albums
To copy (export) music out of Roon (like to your phone, or to a flash drive to take with you)
To export a spreadsheet of the selected content, for organizing or analyzing your collection
To edit the selected tracks or albums If you've selected tracks in the Track Browser, this menu has an additional option available for tracks:
View File Info… (giving information such as format and storage location)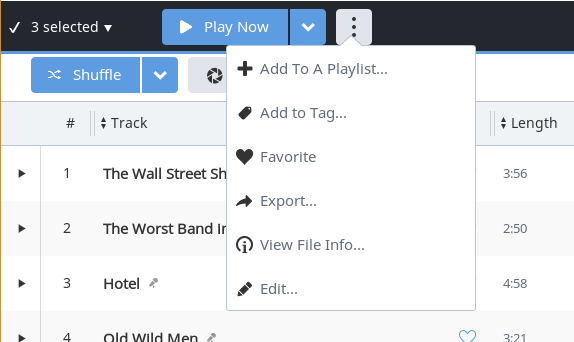 Click Edit to see editing options available for the content you've selected Click X to deselect the content. You can also click the dropdown on the left to select all the items on the screen, or to deselect all.