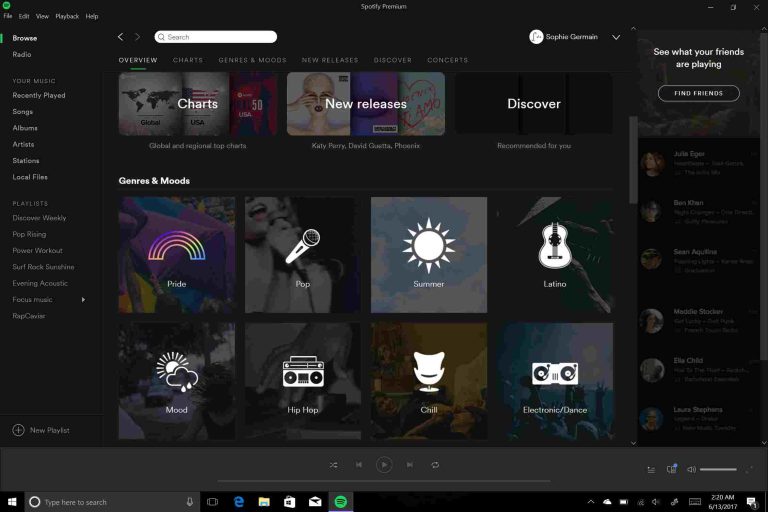 Spotify app is one of the finest and slimmest among all of the music streaming providers. Spotify app is available for various platforms including the old-generation Windows mobile OS as well. Whether you are trying to play Spotify music in your desktop or mobile, Spotify app would be providing sufficient supports and an easy to use user interface to work with.
How to download Spotify App
The Spotify app is completely free to download and you can download it from the official Spotify site here www.spotify.com/download. Instead, you can also use any third-party websites offering the Spotify app.
Spotify App for different platforms
If you want to download Spotify app for your desktop, visit the link mentioned above and if your download does not start automatically, click "restart the download". Upon completion of the download, look for the app on your download folder and double click it. Proceed with the installation procedures. After completing the installation, log in and enjoy the musical magic of Spotify.
In some cases, you may not be able to download the app, and in such occasions, you could use your browser to listen to Spotify music using Spotify's web player.
If you want to listen to Spotify on the go, try downloading Spotify for your Android or iPhone. If you want to download the app for your android, download the app from Google Play Music. On the other hand, if you are an iPhone user, try Apple app Store for downloading the Spotify App.
If you are using other devices, a separate Spotify app may or may not be required depending on the device you have been using. However, Spotify supports a stack of speakers, cars, smart TVs and game consoles.
In some cases, you may need to transfer music and playlist from Spotify to other music streaming providers, and in such circumstances, MusConv could help you. MusConv is actually a music converter toolkit designed to ferry music and playlist across a wide range of music streaming service. Besides, the process of transferring is very easy as well and it is not time consuming at all. Apart from that, the software comes up with a free trial version that lasts for 14 days, however, the trial version could not be taken as a substitute for premium version.
In order to transfer music from Spotify to other music streaming providers, you need to follow four simple steps. At first, you need to choose the source, which would be Spotify in this occasion, and after that, you need to choose the playlist and songs you want to transfer. After that, choose the destination from the MusConv app and hit transfer. The rest would be taken care of the tantalizing toolkit itself.