Today, the world music industry is gradually being reoriented to streaming services, since the number of performances of musicians live has critically decreased, and the trade in music on physical media has become a thing of the past.
Spotify, which today ranks first in the world not only in popularity with its 350 million users around the world, of which more than half have a paid subscription, but also in the interest of the world music industry itself. This platform is used as one of the most effective mechanisms for generating income in the face of the restrictions of live concerts associated with the world pandemic, as well as for building musical careers for performers.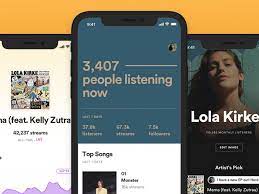 Spotify for Artists is an official artist application. It provides information about the number of listeners to your music, the option to search for listeners, the ability to edit your profile, learn the latest secrets and tricks of the music business.
Spotistats for Spotify allows you to see the number of listenings of a certain musical composition or album, as well as some other information up to the location of the listeners. Here you can watch information about the performer, song or playlist. Personal statistics and much more are also available.
The audition counter is a very effective tool for the musician. After all, each performer wants to maximize his work on the market, be it a musical composition, single or album. Understanding how many times, where and, most importantly, what they listen to most, he will be able to effectively distribute his efforts.
In the application, you can check the number of listenings in three different time ranges: month, half-year and for all the time. These are quite enough to compile a holistic picture and understand at what level of rating the artist and his track are, and will also allow to predict the approximate profit from its download on the streaming music service.
The application ensures maximum confidentiality. One login through Spotify opens all application functions to the user. Its data is stored locally on its device and only on its device. Information privacy is considered one of the significant competitive advantages of the Swedish streaming service. Any actions of the performer will not become known to another user and they will not be able to use such information in any way.