The battle of the giants. Here are two of the best platforms for music lovers, Spotify and SoundCloud, now we will see what one gives and what does the other and do a little battle to see which one is better.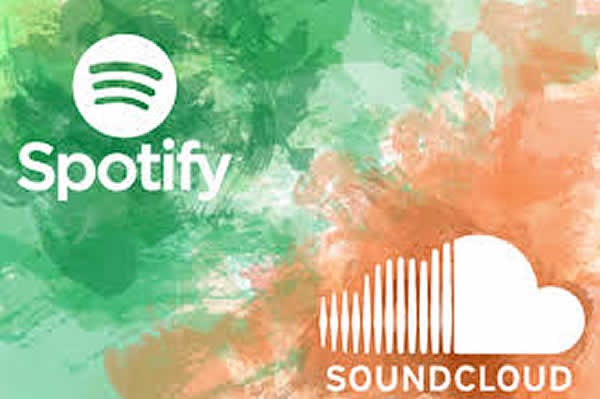 Spotify vs SoundCloud. So what music streaming service to choose in 2019?
Spotify

Spotify is a very strong, popular and easy to use platform for music lovers. One of the biggest advantage of Spotify is that it has one big, freely said large, music database where you can find all of the best music, and for free if we can add.
Spotify offers moods and genres that give your current feelings and vibe that you are on the right music to go with it, if you are training and trying to lift your spirit you can choose your "Confidence Boost" playlist and the music will follow your current state of mind.
Also with Spotify you can get some song and music recommendations that will base on what are the songs you listen to every day. For some really big music lovers you can also pay a little bit of money and get the option to have your playlist downloaded and you can also listen to in when you are offline.
Also in the Battle of Spotify vs SoundCloud I want to mention that for all of you music lovers the site MusConv is the best solution if you want to transfer your favorite playlist from one service to the other in very easy way, and enjoy your music on both of these amazing platforms without building the playlist from the start every time.
SoundCloud

SoundCloud is also very popular and good platform that many music lovers use. Some will say that is a best place for less known artists and remixes and covers.
If you look closer you will find all you need to know about SoundCloud in their tagline "It is and audio platform that lets you listen to what you love and share the sounds you create"
So basically you get an application that have access to popular music and also to some original and rare mixes and sounds that you will not find on any other place. So it is easy to say that SoundCloud reaches every possible type of music lovers and various audience with the best streaming services.
As an addition to all this SoundCloud also allows you to listen to the radio station that has similar songs as the one you like. One of the best things about SoundCloud is that adds are very short and very well timed, so you can run on adds very rarely and when you do you can just skip them and return to your music, it is a very good and useful part of the service SoundCloud provides.
Well we come to the end of this great battle, and we can easily come to the concludion that you cannot choose one over the other. It is simple they are both amazing for music lovers.
You can use both for various reasons, if you want to build your own playlist and have variety of music you listen to every day you go with Spotify, and if you want some emotion boost or some music to fit your current state of mind you go with SoundCloud.
They both are very good and give you the best experience possible, of course it depends on what you are searching for.
If you want to migrate between two services, MusConv will be helpful for you!
How Sound Cloud differs from the Spotify
In terms of music streaming industry, if Spotify could be the distributor, the Sound Cloud would have been the entrance. According to the Sound Cloud CEO Kerry Turner, that is the way they distinguish themselves from Spotify. They were the artists from the very beginning of Spotify's journey, added Kerry Turner.
Claims of Sound Cloud CEO
According to the Sound Cloud CEO, lots of artists who dominated the jukebox for years, started their venture in Sound Cloud six long years ago. The CEO also added that they were the artists when Spotify were their first uploads in the world.
Needless to mention, other music streaming services were not available in that time. On the third week's Wednesday of March, 2018, sound cloud has launched its first ever advertising campaign named First on Sound Cloud. The target of this advertising campaign is to spotlight new and emerging musicians.
At the same day, we got a news that the Pandora did not want to stay behind for long and they were announcing a new rival audio advertising ecosystem. Basically, they plan to buy the AdsWizz whuch is an audio tech company. It will merge with Pandora after the purchase and form the largest digital advertising eco-system.
Still the question remains how the streaming platforms will be paying the singers fairly. Though, it has been said that we are still in early days. However, we do not believe in what he says as Pandora as a music streaming platform never attain the beliefs of musicians and this new approach may not mean anything beneficial for the musicians.
Spotify vs Sound Cloud
In terms of music quality Spotify is far ahead of Sound Cloud. Yet the customer generated playlists are being made available in Sound Cloud and that is, most probably the one and only thing that might favor them. Nothing else could get them ahead of Spotify. In terms of paid subscribers, the Spotify holds the largest number and the figure now reaches to 70 million mark. On the other hand, the Sound Cloud merely has 3 million of paid subscribers.
However, in any case, if you would like to convert your playlist from Spotify to sound cloud or vice versa, you might consider using the MusConv. It is a robust solution developed specially to transfer music and playlist across music streaming platform. Furthermore, to convert playlist and obtain them as CSV file for better management, there is no alternative.
More info about Spotify and SoundCloud on wikipedia.