Nothing enhances the sound of a piece like Sibelius does. This Avid software offers unique capabilities to help composers and professional composers realize their full potential as a composer or arranger.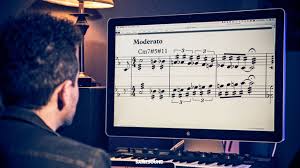 The Sibelius sheet music editor can be downloaded free of charge and used for 30 days. But in the unlicensed version the function of saving projects will be unavailable. Optionally, you can subscribe – $ 19.92 per month.
The Sibelius product line has undergone significant changes following a massive rebranding of all Avid software. The First series products are intended for professionals who are just starting out. The middle rung is a broader and more customizable solution that will provide professionals with a standard set of tools. The Ultimate series products are the most complete and functional software for individuals and creative teams.
Among the functionality of Sibelius Ultimate:
• professional sheet music editor;
• almost 2000 ready-made instrumental parts;
• guitar and piano emulation;
• processing of MIDI tracks;
• work with hardware tools.
Among the advantages of this version of the program are improved performance on 64-bit systems; support for VST and MusicXML standards; quality templates and an advanced sound engine. The disadvantages will be the need to use a very powerful video card and high requirements for computer resources, as well as the high cost of the subscription.