AVID Media Composer is one of the most popular live video editing and editing applications. This application is used not only by amateurs, but also by professionals. For example, with its help such famous films as «Transformers», «Avatar» and «The Chronicles of Narnia», as well as many others, appeared.
The program offers a range of features that have been highly praised by professionals. AVID Media Composer, as the predecessor to non-linear video editing, set the direction for this type of tool. The most important features offered by AVID Media Composer include a suite of professional color grading tools, a high quality green screen removal tool (SpectraMatte), built-in support for P2, XDCAM, RED and Quicktime formats. In addition, the editor offers the ability to post videos to popular social networks, image stabilization, support for hundreds of plugins and filters, and more.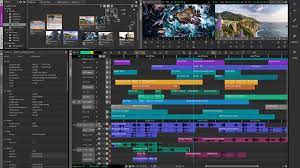 One of the most interesting options offered by AVID Media Composer is PhraseFind technology, which allows you to search for a soundtrack by spoken words.
We can find others among the new products offered by Avid Media Composer 7th Edition. FrameFlex tool to quickly crop high-resolution footage, automatically manage media files in the background (create proxies, copy data, render) or the ability to work as a team on a project. In addition, Media Composer also offers a range of advanced audio editing tools.
Avid recently released a free version of its popular video editing software with a slight delay. The free version has been dubbed the «First» and is now available as a free download for Windows and macOS. Media Composer First has the same interface as the paid version of the software. The tool offers editing of the source material thanks to built-in visual effects, transitions, color correction kits or special templates. The free version is limited to the ability to work simultaneously with four video tracks and eight audio tracks.
As for the formats, we are dealing with SD Pal, SD NTSC, 720p and 1080p, 2K and 4K. Each of these formats supports a maximum of 59.94 frames per second.
Today it is difficult to find a professional or amateur in the field of video editing, who would not be familiar with this popular program. The paid version of the program, of course, provides much more creative possibilities than the free version.