On March 15, 20-year-old Imanbek Zeykenov (DJ Imanbek) became the first ever musician from Kazakhstan to be awarded a Grammy. He received an award in the nomination «Best Remix».
Imanbek (full name Imanbek Maratovich Zeikenov) was born on October 21, 2000 in the small 40,000th Kazakh town of Aksu. Today – he is a megapopular Kazakh DJ and music producer.
Imanbek Zeikenov understands that he caught the wave, and calls his success at the Grammy pure luck. A year ago, he lived with his parents in the small town of Aksu in the north of Kazakhstan and wrote music on an old computer with a built-in audio card. Now he is considering buying his own house near Astana.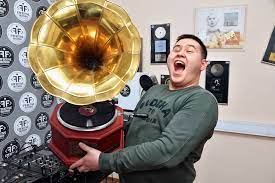 Young railway worker Imanbek, who comes from the small town of Aksu, even by the standards of Kazakhstan, studied at the local Railway College at the time of writing his recognized masterpiece. Everything said that she would become a professional railway worker in the future. But his main hobby since childhood was music, and having mastered the Internet and special programs-editors, the guy tried himself in remixes.
In 2019, Zeikenov mixed one of his favorite tracks – «Roses», posting in his group on «VKontakte». There, a couple of dozen people appreciated his version, most of whom were friends of the future railway worker. Imanbek also threw his track to the rapper in the Instagram director, but at first the author of the original did not answer.
On the Effective Records label, they decided to help the young man with promotion, suspecting a potential hit in the remix. Through the efforts of producers or the will of chance, the track was heard by foreign users, it got into the rotation of radio stations, and then became viral. The dance version of «Roses», published under the pseudonym Imanbek, ended up on the charts throughout Europe, and in the world top of the music streaming application Shazam was in third place among all the tracks. After such a surge in activity, the track finally listened to SAINt JHN itself, after which it published a karaoke clip for Imanbek's remix on its YouTube channel. At the moment, more than 200 million users have watched the video.
The Grammy Award nomination was a complete surprise to the young Kazakhstani. Despite doubts about the reality of what was happening, he was declared the winner in the category «Best Remix».
A newly made composer, as always modest. Imanbek Zeikenov has not changed at all. The same ordinary guy from Aksu, but already in the status of a mega star of the world scale. Despite the falling fame and new opportunities, Imanbek does not plan to leave Kazakhstan. Now his task is not to replicate his success, to make collaborations with world stars and start touring as a professional DJ.